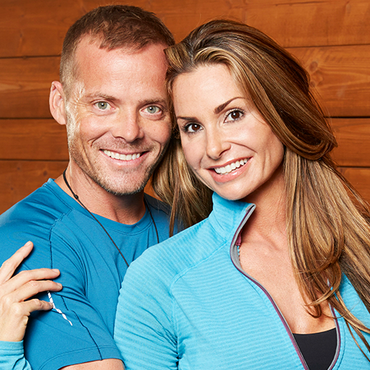 When Colin Guinn and Christie Woods went on The Amazing Race in 2004 they competed and argued their way to disaster. They fell just short of winning, and the producers decided to make them the villains of the season. And it worked. Colin went viral and was quickly one of the most hated men in America. Naturally, that took a toll on their lives and their relationship. Fifteen years later through an unbelievable coincidence, Colin and Christie went back on The Amazing Race… and not only did they win, they changed the way people looked at how to compete. As a couple, they are happier and healthier physically, mentally, and emotionally, but really it was their growth of consciousness that opened the door for them to cross that finish line and win the million dollars. We talk about the importance of the energy you bring to your problems, harnessing your capacity to listen to the whispers of your knowing, and of course...a sprinkling of Sex Magic.

Colin Guinn and Christie Woods

Colin Guinn and Christie Woods recently won the Emmy award-winning reality show, The Amazing Race (season 31). Their first appearance on the show was more than 15 years ago in which Colin was deemed the "villain" of season 5 based on the team's highly competitive, "win at all cost" nature, which ultimately cost them the win, finishing 2nd overall. This time around, Colin and Christie chose to implement a very different game-play strategy based more on collaboration over competition and included decisions driven by love instead of fear. The result shows a balance of masculine and feminine energies working together synergistically at all levels of the game to ultimately claim the million-dollar prize in the show's first-ever Reality Showdown against some of the most well-known competitors from Survivor, Big Brother, and past seasons of The Amazing Race.

Colin is a serial entrepreneur and high tech product development expert. As the founder of Guinn Partners, an autonomous robotics and emerging technology consultancy, Colin leads the team in strategic innovation, product development, and investment opportunities. Prior to Guinn Partners, Colin founded Austin startup Hangar Technology, served as Chief Revenue Officer at 3D Robotics, and was founder & CEO of DJI North America. Colin has developed products, invented, and holds patents for some of the most popular drones and gear globally, including: the DJI Phantom, Zenmuse gimbal systems, and 3DR Solo. He is one of the most interviewed experts on robotics and drone technology in the world and provides product development guidance to startups and Fortune 500 companies alike.

As an Integrated Sex, Love & Relationship Coach, Christie assists her clients in the healing of past trauma stuck in the body often keeping one in a constant loop of mediocre relationships and life experiences. She combines traditional "top-down" talk therapy with a more somatic "bottom-up" approach utilizing a host of energetic healing tools, including shamanic breathwork and ecstatic dance, in order to encourage her clients to go deep within themselves to uncover or simply release belief systems and thought patterns no longer serving their best and highest good. Christie invites her clients to reclaim their sovereignty by reconnecting with their own internal emotional guidance system; and as a result becoming a more expressed human, free of cultural and familial programming - inspired to live their own authentic Truth.